[cp_toggle title="2013″ style="h3″]
[11/26/2013]
: My paper, titled "Exploiting Mobility in Proportional Fair Cellular Scheduling: Measurements and Algorithms" was accepted to
IEEE INFOCOM 2014 in Toronto
(19% acceptance rate)! This work stems from a project completed during my internship and followup collaboration with AT&T Research Labs in New Jersey.
[10/9/2013]: I was nominated by the Department of Electrical Engineering at Columbia for the Microsoft Research PhD Fellowship. This fellowship is incredibly competitive and would fund my education for two years as well as provide a paid internship.
[9/1/2013]: I organized and participated in a poster and demonstration session showcasing the EnHANTs student projects from Summer 2013. Over 100 incoming M.S. students attended.
[4/24/2013]: I was accepted to and will attend the First Internation School on Green Communications and Networking (GreenComNet) this summer on May 28-31 in Boston, Massachusetts.
[4/19/2013]: Following INFOCOM'13, I presented at CTTC in Barcelona work on the design and experimental evaluation of an Energy Harvesting Active Networked Tags testbed, and the design and experimental evaluation of a proportional fair scheduling framework in cellular networks.
[news item]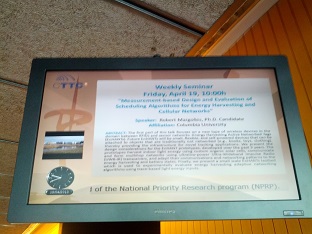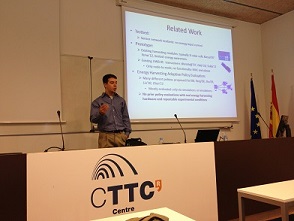 [4/17/2013]: At the INFOCOM'13 demo session, along with Maria Gorlatova and Gil Zussman, we presented an EnHANTs testbed demonstartion. [Paper PDF] [Poster PDF] [news item]
[2/15/2013]: At this year's INFOCOM'13 conference in Turin, Italy, my paper on the EnHANTs testbed was accepted to the mini-conference. Additionally, the EnHANTs demo will appear in the INFOCOM'13 demo session. [Paper PDF
[/cp_toggle]